Hi and welcome to our website! Here you will find all the information you need on our classes as well as a full line of sporting equipment relating to kickboxing, boxing . Please feel free to poke (and maybe jab) around and explore what we have to offer.
Take a tour of our training facility located in the outskirts of Casselman Ontario. This facility sports a new regulation size boxing ring, a workout area, change rooms, shower and plenty of parking.
WHAT TOPTEN CAN OFFER YOU
Cardiovascular health: Healthy heart and lung function is the backbone of any fitness program. We will help you achieve that in exciting and powerful ways.
§ Muscle toning and conditioning: Strong, fit, toned, attractively shaped balanced bodies are difficult to develop with the "average" workout or sport. Kickboxing will work muscles you never knew you had, and let you discover the ones you always wished you had.
§ Energy and well being: Starting a Top Ten program does not add fatigue to your day. On the contrary, your increased fitness levels will propel you with added energy through even the toughest of days.
§ Weight loss: Those extra pounds need to go, and more importantly need to stay off. Shedding the excess fat can be achieved in dramatic ways with kickboxing. The motivational and exciting classes, the ongoing professional coaching, and the progressive nature of our program help you stay the course and enjoy the journey.
§ Flexibility: A flexible body is a healthier one. An integral part of kickboxing, your life will be enhanced by your new found flexibility, range of motion and feeling of well being from better circulation.
Empowerment: If you feel good about yourself, the physical progress you are making, and your new found abilities, you are much more likely to make better choices in all other areas of your life. Better food choices, kicking bad habits and starting positive ones, are much easier to accomplish when they are part of your new found success with kickboxing.
Call us today 613-764-1667 !
Spring Session Registration
NOW ACCEPTING SPRING REGISTRATION
Classes Start April 15th 2013
10 Week Fitness Program!!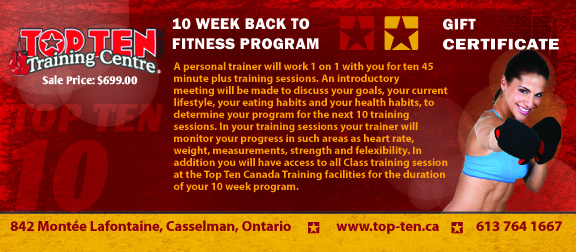 Boxing Kit Gift Certificate!!